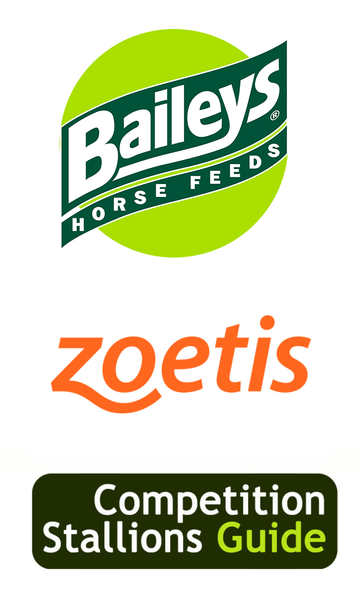 The 2022 Stallion Event
In association with Competition Stallions and sponsored by Baileys Horse Feeds
on Saturday 12th February 2022
at Arena UK, Allington Lane, Allington, Grantham, NG32 2EF
We are excited to be featuring some of the top stallions available at stud for Breeders for the 2022 Season.
The Stallion event will again be open to young and established British based stallions from all three disciplines. Breeders have long since valued this event for the diversity of bloodlines and ages on display, with stallions representing all UK sport horse and pony studbooks.
Stallions will start parading from 10.30am with the final running order being announced the week before the Event.
We will also have the stables open from 12.30pm onwards to enable visitors to go and see the stallions close up and discuss breeding
opportunities with the stallion owners.
The Futurity Awards for 2021 will be presented during the day, celebrating the achievements of Breeders during the 2021 Futurity Season. The Awards will be presented in the main arena during the stallion event programme.
Entry to the event will be open from 9am to enable visitors to come and watch some of the Equine Bridge finalists in action before the stallions start.
TICKETS

Standard tickets for the Stallion Event with access to the stables for stallion up close viewing - £15+ booking fee. Please go to the Ticket source link below and book Sat 12th February or click here
The Bistro Cafe is open all day.

VIP Tickets - these include the Stallion Event with access to the stables for stallion up close viewing, entry to the VIP Gallery with tea and coffee available all day and a hot lunch from 12.30pm-2.30pm. The bar will also be open.
The Hot lunch is a Beef Bourguignon served with new potatoes, vegetables or an option of rice followed by cheesecake. There is a Vegan option available as well. The lunch is a buffet style help yourself so you can have lunch at whatever time suits you between 12.30 and 2.30pm.
The Galley is above the seating area and has an excellent full view of the Arena in the warm. There is plenty of space and seating for an enjoyable day watching stallions. - £50 + booking fee. Please go to the Ticket source link below and book Sat 12th February or click here
The Running Order:-
Eventing Stallions:-
10.30am
TIME
BRIDLE
NUMBER
STALLION
10.30
28
HERITAGE ARRAKIS
10.36
17
ABBEYWOODS VEYRON
10.42
26
FUTURE HEPSILON
10.48
33
PENNINEVIEW SILVER CONCORDE
10.54
30
JAMHOORI
11.00
22
CATHERSTON OAKLEY
11.06
20
BRITANNIA'S BIJOU
11.12
21
BRITANNIA'S MAIL
11.18
23
AMIRO Z
11.24
18
ANSIEI
11.30
24
FUTURE GRAVITAS
11.36
27
HEARNESBROOK NEW MOON
11.42
19
ASHWEY LAURENZO
11.48
16
ABBEYWOODS UNDER PRESSURE
11.54
34
SIR MAYFLY
12.00
29
JACONDRIK
12.06
31
LEPRINCE DES BOIS
12.12
32
PENNINEVIEW BEE SPRITELY
12.18
35
TIGER ATTACK
12.24
25
FUTURE GUILTY PLEASURE
LUNCH BREAK 12.30-13.25 STABLES OPEN TO THE PUBLIC FROM 12.30PM - 5PM
SHOWJUMPING STALLIONS START 13.30
TIME
BRIDLE
NUMBER
STALLION
13.30
56
YNYSLYNE ORLANDO
13.36
46
ENVOY MERELSNEST Z
13.42
58
LAS VEGAS
13.48
45
ECHO VAN HET NEERENBOSCH
13.54
38
CALIAN Z
14.00
53
FANTALAND
14.06
39
CARETINO GLORY
14.12
41
COLMAR
14.18
49
HOCUS POCUS
14.24
44
ECCLESTONE Z
14.30
42
COMFORT
14.36
55
REGAL CARETINO
14.42
37
CADENSKY
14.48
40
CHRYLSER SE
14.54
43
DONNARUMMA BLUE Z
15.00
47
ESPESHELLI
15.06
54
PANDITO VAN'T MERELSMEST Z
15.12
46
GOLDEN HAWK
NPS BRITISH RIDING PONIES
TIME
BRIDLE
NUMBER
STALLION
16.15-16.25
13
ALONBY SHADONNIER
16.15-16.25
17
ROTHERWOOD PEEPING TOM
16.15-16.25
15
ROTHERWOOD JUBILEE DIAMOND
DRESSAGE STALLIONS
TIME
DRESSAGE
NUMBERS
STALLION
16.25
5
FIRST WORDS
16.31
1
BATHLEYHILLS MONET
16.37
59
STEEPED IN LUCK
16.43
4
DIAMOND CUT II
16.49
3
DEBUTANTES DREAM
16.55
60
WILKO VOM SCHLADITZER SEE
17.01
57
CORALIN WILD N WONDERFUL
17.07
6
LESTINGDALE VS
17.13
2
BLUE HORSE ZACKORADO
17.19
11
TIMOLIN
17.25
7
LOLLIPOP DANCE
17.30
12
WOODLANDER GRAND DESIGNS
The Equine Bridge
11th & 12th February 2022
The Equine Bridge is open to invited young horses aged 4 to 6 years who have gained a gold score or above as a 3 or 4 year old at the Futurity evaluations and have demonstrated their ridden ability by completing two affiliated events in their discipline. Organised as a 2-day "performance test" style event with high profile international trainers and evaluators, and with an evening demo in the pipeline, the purpose of the Equine Bridge is to support the transition of the very best Futurity series candidates into the sport. The top entry in each discipline of eventing, showjumping and dressage will receive a £1000 bursary to be used towards the costs of starting the most talented British bred horses in their competition career.
AES Isobel Wessels Masterclass - Friday 11th February 7pm
Friday will be rounded off with the AES Isobel Wessels Masterclass. Tickets are £15, or you can purchase a two-day ticket giving admission to the Equine Bridge, Masterclass and Stallion Event.
The Bistro Cafe will be open prior to the start of the Masterclass
Isobel Wessels:
Having trained many horses to Grand Prix and won no less than ten national titles aboard star horse Chagall, Isobel Wessels is no stranger to success. Alongside riding, competing and training, Isobel has also achieved the status of FEI 5* Judge making her one of only four in Britain. Within this role she judged at the 2017 Senior European Championships, multiple European Championships for U21s riders, World Cup qualifiers, Nations Cup competitions and this year the World Young Horse Championships.
Isobel has been involved with riding, training and judging dressage for more than 30 years. Her inspiration started as a teenager whilst living in Vienna and working with Ernst Bachinger from the Spanish Riding School. She had a very successful career whilst living in South Africa and ended as National Champion on a pure thoroughbred ex-racehorse. She has spent long periods in Germany riding and training and it is from this source that she bases her philosophies.
Her return to the UK in 1985 gave her more opportunities to ride and train and the result was many national titles producing and competing horses from young horse classes to grand prix. One of her best horses from this period was Leopardo with whom she was a member of the Olympic Potential Squad of the time. Together they won and were placed many times nationally and internationally and achieved a Team badge in 2002. During this time her main training was with Stephen Clarke, Henk van Bergen and Carl Hester. To date Isobel has trained some 8 horses to Grand Prix level.
Her passion has always been the training and she currently works full time with producing riders and horses all over the UK.
She became a Candidate or 3* International Judge in 2000 and after finishing her international riding career at the end of 2002 (it is not permitted to do both in the same year) she passed to International 4* status in 2003. In July 2011 she was promoted to the highest level of 5* International.
In this capacity Isobel judges around 20-25 International shows each year and has had the enormous honour to preside at some of the biggest shows in Europe as well as World Breeding Championships for young horses and European championships for Ponies, Juniors and Young Riders. Isobel also takes many seminars for judges both nationally and internationally.
TICKETS
Click the link below to view and purchase all ticket options.