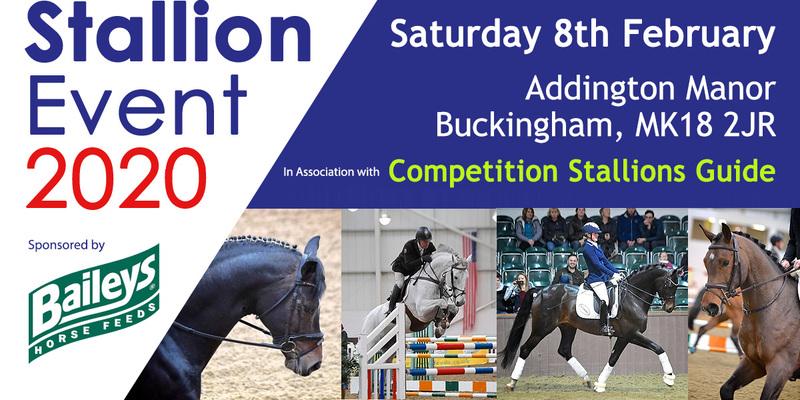 The 2020 British Breeding Stallion Event - The biggest stallion show of stallions based in the UK for 2020
---
About the Event
The 2020 Event went without a hitch and we had superb displays from both young and more experienced horses.
Future Sport Horses opened the day with their exciting young stallion Future Guilty Pleasure who received a lot of interest. We were then delighted with two super Sports Pony stallions in Jonkers Metyo and Prometheus holding their own against the well know horses such as Timolin, Welton Double Cracker & Sula Blue. It was great to see two superb examples of Irish Draught Stallions as well as the Thoroughbred Jamhoori who is standing to the Sports Horse Breeding mares this season.
In Showjumping, the visitors were treated to the likes of Big Star looking absolutely amazing to Robert Whitaker's super young son or Argento, Vermento showing that he is likely to be a star of the Future. New Priory Stud & Brendon Stud are both known for bringing out super young stallions and this year was no different. New exhibitors this year were Weston Warmbloods who presented a Big Star son and two other young stallions. Showjumping and Eventing breeders were really shown what quality there is to choose from this season in GB.
The Late afternoon gave the arena over to the Dressage Stallions and what depth we had was phenominal. Long standing supporters, The Woodlander Stud did not disappoint bringing some of their best with Franz Ferdinand and W.Double Bubble looking wonderful not fogetting the super sire Woodlander Wavavoom. The day was completed with the stunning DURABLE who looked effortless in his super display at the end of the day.
---
Post Event Viewing
For those unable to visit or if you just want to see the stallions again; the whole event was covered by clipmyhorse.com and is available. They are currently running a March offer for free membership for a month if you want to catch the Event.
---
Photographs
Photographs of all the stallions will be available on this website by the end of the week (16th Feb)
---
Eventing Stallions
Time
Bridle No
Stallion Name

10.30am
10.35
10.40
10.45
10.50
10.55
11.00
11.05
11.10
11.15
11.20
11.25
11.30
11.35
11.40
11.45
11.50
11.55
12.00
12.05
12.10
12.15
12.20

6
89
81
11
68
12
4
35
10
76
2
8
75
15
70
38
45
73
90
77
60
37
94


Future Guilty Pleasure
Jonkers Metyo

Welton Double Cracker
Carrigfada Grey Mist
Opposition Bombshell
Catherston Oakley
Ashwey Laurenzo
Future Gravitas
Caliber Royale
Tiger Attack
Amiro Z
Britannia Royal
Sula Blue
Corrindon Dancer
Philanderer Ii
Future Prophecy
Jamhoori
Prometheus
Sir Shutterfly
Timolin
Leprince Des Bois
Future Hepsilon
Ramiro B Progeny: Cooley Again
12.25 - 13.35 Lunch break and stables open to the public (12.30pm – 5pm)
Showjumping Stallions
Time
Bridle No
Stallion Name

13.40
13.45
13.50
13.55
14.00
14.05
14.10
14.15
14.20
14.25
14.30
14.35
14.40
14.45
14.50
14.55
15.00
15.05
15.10
15.15
15.20
15.25
15.30
15.35
15.40
15.45
15.50
15.55
16.00
16.05

74
61
49
9
52
42
59
56
16
88
3
82
57
48
13
26
27
46
43
47
44
54
14
79
69
66
91
92
6
93

Rasputin
Lion King
Kensington W
C Star WW
Key West
Hazelwood Utah's Romeo
Klaris Giddy Up
Kippure Lancelot
Cristo
Cavaso Z
Ashdale Legend
Whin Whin
Kl King Of Jazz
Kantairo WW
Comfort
Edobantos
El Thuder
Je T'aime Flamenco
Hocus Pocus
Jonagold
Invictus
Killour Star
Cornets Pleasure WW
Waldo Van Dungen
Pandito Merelsnest Z
NPS Supernova
Vermento
Zip Phin
Big Star
Caretino Glory
We will have a 15 minute break while the arena is cleared and harrowed.
Amendments to the British Breeder Stallion catalogue:
Page. 38 - Oliver No. 67 is a true dual purpose stallion but he is displaying in the Dressage section
Page. 26 – Franz Ferdinand No.33 is in Dressage not Showjumping
---
Dressage Stallions - Begin 4.20pm
Time
Bridle No
Stallion Name

16.20
16.25
16.30
16.35
16.40
16.45
16.50
16.55
17.00
17.05
17.10
17.05

17.20
17.25
17.30
17.35
17.40
17.45
17.50
17.55
18.00
18.05
18.10
18.15
18.20
18.25
18.30
18.35
18.40
18.45
18.50
18.55
19.00
19.05
19.10
19.15
19.20

67
30
24
58
22
84
32
71
40
39
87
17

34
65
5
85
86
18
23
20
78
31
19
41
63
7
72
51
33
1
80
50
21
83
77
62
25

Oliver
FHS Diamond In The Rough
Dream On
KL Mac
Diego
Woodlander Grand Designs
First Words
Platinum Cobochon
Greenlanes Jester
General
Woodlanders Wavavoom
Cynheidrefawr Crème De La Crème
Fürst Romeo
Myspires Fider Hit
Bathleyhills Colour Creation
Woodlander Sir Gorgeous
Woodlander Summertime Blues
Debutantes Dream
Don Dante
Diamond Cut
Versace
Finale
Devivio
Hammerwood Ritz
Mazimo Jlba
Branduardi
Platinum Honeys Hope
Ketcher B
Franz Ferdinand
Allegretto
Washington DC
Kerouac
Diamond Delorean
Woodlander Double Bubble
Timolin
Lollipop
Durable