British Breeding Equine Bridge for Dressage Horses 2022
Stolen Secret Steals the Show
Stolen Secret outshone an impressive selection of young dressage horses to take the top score of 8.68 for a gold award at the Equine Bridge, held at Arena UK in February alongside the Stallion Event. This lovely 6 year old mare, by Uthopia out of Raica (x Riccio), is owned and bred by Michelle Dawson of Stolen Secret Sport Horses and was presented by international Grand Prix rider, Sonnar Murray-Brown.

Summing up her performance, international dressage judge, Isobel Wessels, said, "This horse is the complete package. In the test and training sessions the horse showed huge ability and a natural engine. Sonnar rode in a really good way and in the training session we saw some good relaxation and the horse completely at ease and in harmony with the rider. In extended trot it was lovely to watch the rider is just taken forward by the horse. She has lots of ability and is very talented so I think for this lovely young horse the future looks really bright – a very exciting prospect".

Stolen Secret

We were delighted to welcome international dressage rider, trainer and FEI 5* judge, Isobel Wessels to assess the Equine Bridge horses for dressage. Isobel has been involved with riding, training and judging dressage for the last 30 years and her invaluable perspective and international judge's eye was hugely appreciated in her assessment of the horses and the advice she gave.
Isobel was joined by Beth Bainbridge, an international dressage rider, trainer and head rider for Anna Ross at Elite Dressage in Devon. Beth rode each of the horses put forward and gave her assessment as part of the overall evaluation.
The Equine Bridge takes the form of a two day performance assessment and each horse and rider combination underwent a training session with Isobel on day one, followed by a veterinary assessment by Dr Jane Nixon MRCVS, assisted by Dr Jess Mullard MRCVS, Helen Reader (tack and saddle fitting), Daniel Harman (farriery) and Lorna Edgar of Baileys Horse Feeds (nutrition).
On the second day, each combination rode their young horse dressage test and the horse was ridden by the test rider, Beth Bainbridge.
Ten horses were presented aged from 4 to 7 years and levels of training were varied. However, they all coped extremely well with some excellent performances and were a credit to their breeders, owners and riders.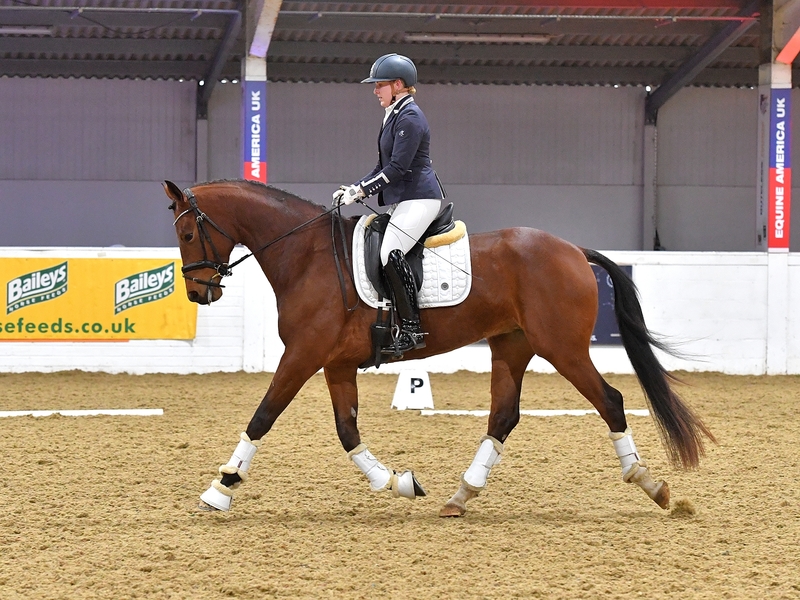 Catherston Tarantella
The runner up spot went to Catherston Tarantella, a talented 5 year old mare by the leading Futurity stallion of 2021, Timolin, out of Accrabella (by Dornekönig). Owned and bred by the Catherston Stud, Catherston Tarantella attained a Gold score of 8.26, earning 9 for his canter. Isobel commented "Both Beth and I were very impressed with this horse yesterday when she had even more energy during a good training session. She is good mechanically, a horse with a lot of 'go', nice technique and natural bending of foreleg in trot which bodes well for future. She is very adjustable, and Beth thought she would be a wonderful horse to develop to the highest level. She is still very green, but in the right way and we really loved this one".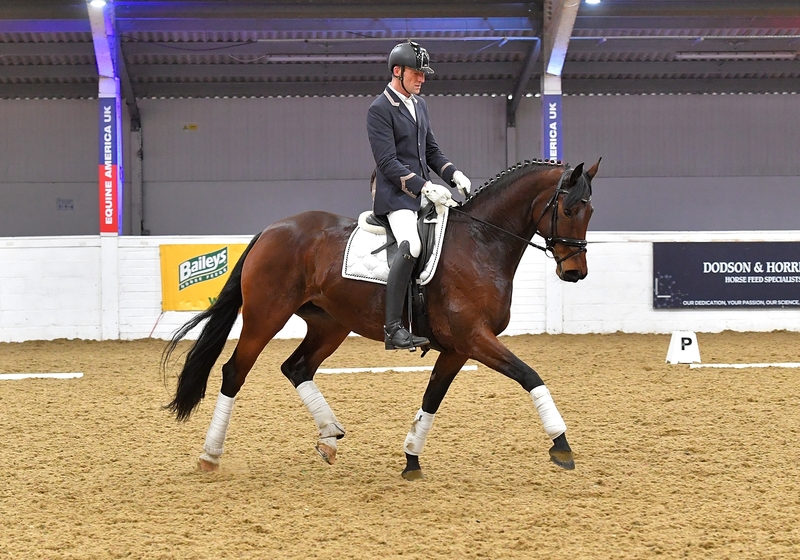 Fashion
Gold award was also presented to Fashion, a 7 year old mare by Freddie M out of Zandra, (by Blue Hors Zack) owned by Amanda Maine-Tucker and ridden by Carsten Sandrock, on attaining a score of 8.15. This was a really eye-catching mare, beautifully bred with natural elasticity and looseness. She was a late starter, so not ready for the 7 year old test but she completed the 6yo test successfully. Isobel said that in training they talked about developing carrying ability, more collection and balance and becoming quicker behind. "She has enormous scope within the paces and powerful engine, really super horse", she added.
Catherston Tuxedo, a 5 year-old by Timolin, out of Catherston Georgia (by Number One Guy), attained the top Elite score of the 2021 Futurity series and this lovely horse gave test rider, Beth, a good ride. "It was interesting to see Charlotte Dicker on three Catherston horses by Timolin. All three have outstanding canter, and this one has a particularly good canter. He is very good mechanically, and very good in the trot", said Isobel, awarding an overall score of 8.1. "In training on the first day we focused on getting him to relax and soften in the body, so the trot and canter can come through in the frame. It is early days, but this is a really talented horse", she added.
Charlotte then had a quick change to ride Catherston Timeless, rising 7 mare by Timolin out of Bee Precise (by Totilas), to gain a score of 7.96. "We really loved this little horse, a pocket rocket, beautifully shown by Charlotte Dicker", said Isobel. "She is very natural in canter, very brave, being 7 she did the FEI test including half working pirouettes in canter and flying changes, including 3 every 4, and the horse is quite well on in her training. She showed quality and a highlight is her canter, like a rubber ball bouncing round. Her trot had lovely extension and she was good in half pass and shoulder in. Clearly beautifully trained and is going to be a star for the future, she was really lovely to judge".
Baron Jack

Baron Jack, by Baron out of Nibeley Charisma's Cracker (by Union Jack), bred by Hazel and Zoe Bailey, was the only 4 year-old forward, now owned and ridden by Mat Baker, and earned a score of 7.9. Baron Jack also received the award for the top 3 year old in 2021 Futurity where he achieved an elite score 9.07. "We were very impressed with this horse. He is still very green and lacking strength and muscle at the moment, but he impressed with his willingness and nice forward going tendency. He has natural ground covering paces and has expression and natural extension. Mat showed him in a positive way and this would be one to watch I would say. A really nice horse and exciting prospect", said Isobel.

Finale Ramall, by Franklin out of Sennerin (by Show Star), bred by Gillian Jones and now owned and ridden by Kathryn Marsh, earned a score of 7.32. This big, eyecatching 6 year-old was recently gelded and Katheryn did very well to show his good basic gaits, specially trot and canter. "He now needs a bit more willingness and ease in his going to get him a bit more in front of the leg. He has a natural way of going and good self-carriage", said Isobel.

Bonus, by Bellisimo M out of Stancombe Bumble (by Lake Street Envoy VII), bred by Derek Mead and owned by Martina Marketis, showed talent in walk with a big overtrack, but was a little unsettled over the two days. "He had very nice walk, trot and canter, lacking a little self-carriage and can get a bit hurried and this affected the contact, but a nice prospect", said Isobel. Bonus also received the award for the top 5 year-old in the 2021 Futurity Evaluations.
Fenella, a 5 year-old mare by Flamengold, out of Butterfly (by Floristan I) bred by Katy Holder Vale at the Hanovarian Stud, was very elegant in its performance. She was a little nervous but showed some very nice moments in the test. Fenella also collected her award for the top 4 year old in the 2021 Futurity.