Review of Competition Stallions Event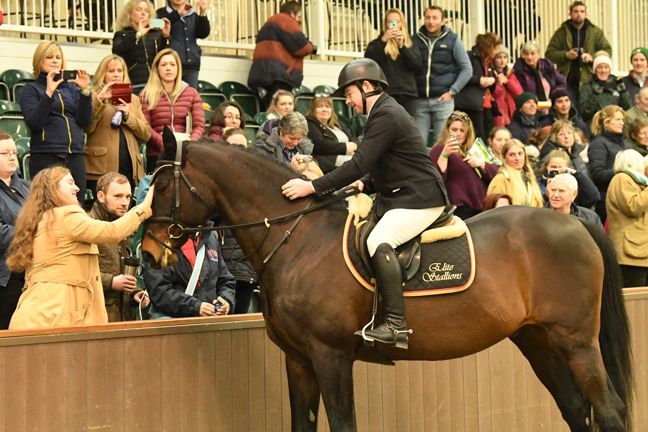 18 February 2018
A large crowd attended the inaugural Competition Stallions Event 2017, held at Addington Equestrian Centre on 18th February, and they were not to be disappointed as Britain's top stallions and some of their progeny demonstrated their talent.
Stallion owners were delighted with the opportunity to show off a wide variety of sires across the disciplines, including some top sport ponies. As well as watching each stallion put through their paces in the arena, visitors also had access to the stables where they could meet the stallions first hand to assess their temperament and discuss their characteristics with connections. The stallion owners provided a hospitable welcome by their stables, as well as displays of photographs and stallion cards for visitors to take away.
The arena programme started with the eventing section, and several stallions were shown with progeny, an ideal opportunity to see just how they stamp their stock. The influential Jaguar Mail demonstrated his ability with enthusiasm and was followed into the arena by his son, Lucinda Fredericks' Britannia's Mail, out of the great Headley Britannia, who showed great temperament and athletic ability with Lucinda's daughter, Ellie, aboard. Chilli Morning delighted the crowd demonstrating the movement and temperament that earned him impressive competition success.
The showjumpers showed their scope and ability over a series of fences, and this star-studded section was a real crowd pleaser, with John and Michael Whitaker in the saddle to show the ability of horses such as Argento, Arko III, Big Star and Cassionato. As well as the big guns, there were many exciting young stallions also demonstrating their superb ability and temperament, coping impeccably with the atmosphere in the arena and around the stables.
The knowledgeable audience appreciated Lynne Crowden's insightful commentary on the dressage section, with stallions demonstrating superb movement and trainability. Of interest was Claire Hester's exciting young stallion, Integro, out of Weidyfleur II who is the full sister to Valegro. In 2018, his first breeding season, Integro will be available to a limited number of selected mares.
A highlight was the parade of Olympians at lunchtime. Argento, ridden by John Whitaker, Cassionato, ridden by Michael Whitaker, Arko III, Big Star, Chilli Morning and Jaguar Mail all took to the arena again to the delight of the appreciative audience.
Enthusiastic visitors and participants have shared their comments.
Tessa Clarke of West Kingston Stud said, "Wow- what a wonderful weekend. We were all thrilled with the professionalism in place. Addington is a great venue and the drinks party on Saturday evening was a great start to the event. There seemed to be plenty of interested breeders on Sunday - We certainly felt it was a very worthwhile event."
Jo Filmer of Longhalves Stud said, "I congratulate [the Competition Stallions] team on running such a superb event. As the owner of the smallest stallion there, the friendly atmosphere and smooth running made for a very enjoyable occasion. The commentary provided by Lynne Crowden on the dressage section was both informative and easy to listen to."
Liz Warr, who visited the event, said "It was a really great day! Some wonderful stallions and good commentary. The hospitality was excellent, and the VIP experience was fabulous. It was lovely to chat to the breeders and stallion owners and I now have two potential stallions chosen for my mare".
"It's been really good. We have the stallions, now people need to put their good mares to the right stallions. It would be good to have more British bred horses at top level – there's no reason why not", said Michael Whitaker.
Studbooks and organisations offering support services for breeders were on hand with advice in the popular trade stand area, and the café and VIP hospitality did brisk business throughout the day.
For a full list of stallions exhibited at the event plus a fully searchable database of stallion information, visit www.competition-stallions.com.